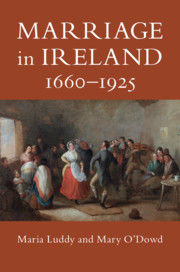 What were the laws on marriage in Ireland, and did church and state differ in their interpretation? How did men and women meet and arrange to marry? How important was patriarchy and a husband's control over his wife? And what were the options available to Irish men and women who wished to leave an unhappy marriage?
This first comprehensive history of marriage in Ireland across three centuries looks below the level of elite society for a multi-faceted exploration of how marriage was perceived, negotiated and controlled by the church and state, as well as by individual men and women within Irish society.
Making extensive use of new and under-utilised primary sources, Maria Luddy and Mary O'Dowd explain the laws and customs around marriage in Ireland. Revising current understandings of marital law and relations, Marriage in Ireland, 1660–1925 represents a major new contribution to Irish historical studies.