Synopsis:
With enemies advancing on all sides and Cardinal Richelieu health failing, France is at breaking point. Yet salvation may arrive in the most unlikely form...
Born into poverty and with terrible deformities, Sebastian Morra is a dwarf with the wit of Tyrion Lannister and three foot, four inches of brazen pluck. Through a mixture of brains and luck, he has travelled far from his village to become a jester at the royal court. And with a talent for making enemies, he is soon drawn into the twilight world of Cardinal Richelieu, where he discovers he might just be the only man with the talents to save France from her deadliest foes.
Another novel inspired by one of Velasquez's paintings of the dwarfs at the Spanish royal court. In this instance, the main character is Don Sebastian de Morra, whose story is set in both the royal court of Louis XIII of France then the Spanish Court during the reign of King Philip IV. Who could ask for a better backdrop into which a distinctive character is inserted, and is central - yet despite his wit, Sebastian is still out of his depth in a court full of plots and intrigue.
Sinclair is upfront when he claims there is very little to go on by way biographical information on Sebastian de Morra and so has provided him with a most likely personal history from son of peasants in Camoches to his education by local priest, and appointment as a clerk to the Viscount Turenne in Paris. This harsh early life will eventually teach Sebastian the skills he will come to need when he is taken on by the King's Chamberlain, Alain Bouchard, and gains entry into the royal court of King Louis XII of France.
The French Court during the 1620 - 1640s was dominated by the powerful Cardinal Richelieu, who played a major role in determining France's political direction. Under Louis and Richelieu, the French Crown successfully intervened in the Thirty Years' War against the (Spanish) Habsburgs, managed to keep the French nobility in line, and retracted the political and military privileges previously granted to the Huguenots. In addition, Louis had the port of Le Havre modernised, built a powerful navy, and made territorial advances in North Africa, Asia, the Americas.
This novel offers an alternate view of the French Court and Cardinal Richelieu through the eyes of another, as what most people know of / remember about Cardinal Richelieu comes from his portrayal by Dumas in his books on the Three Muskateers. It makes a nice change to see his vulnerability.
Towards the end of his life, Richelieu alienated many people, including Pope Urban VIII. Richelieu was displeased by the Pope's refusal to name him the papal legate in France; although the conflict was largely healed when the Pope granted a cardinalate to Jules Mazarin, one of Richelieu's foremost political allies (and his political successor).
As he neared death, Richelieu faced a plot that threatened to remove him from power. The Cardinal had introduced a young man named Henri Coiffier de Ruzé, Marquis de Cinq-Mars to Louis XIII's court. The Cardinal had been a friend of Cinq-Mars' father. More importantly, Richelieu hoped that Cinq-Mars would become Louis' favourite, so that he could indirectly exercise greater influence over the monarch's decisions. Cinq-Mars had become the royal favourite, but, contrary to Cardinal Richelieu's belief, he was not easy to control. The young Marquis realized that Richelieu would not permit him to gain political power and thus found himself mixed up in the Comte de Soissons' failed conspiracy against Richelieu, but his part in it was not yet discovered. Cinq-Mars then schemed with leading nobles, including the King's brother, Gaston, the Duc d'Orléans, to raise a rebellion; and then signed his name on a secret agreement with the King of Spain, who promised to aid the rebels. Richelieu's spy service discovered the plot, and the Cardinal received a copy of the treaty. Cinq-Mars was promptly arrested and executed; although Louis approved the use of capital punishment, he grew more distant from Richelieu as a result. It is as part of the Cardinal's spy network that author Sinclair has inserted the character of de Morra.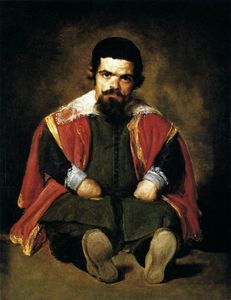 But de Morra was a man of two royal courts, and in 1643 - 1644 he finds himself at the court of Philip IV of Spain - we know this only based on his
portrait
by Diego Velasquez,said painted in 1644. It has been speculated that de Morra was acquired by King Phillip IV from his younger brother Cardinal Infante Fernando, possibly on the latter's death in 1641 certainly not sooner if de Morra was still in Richelieu's pay up until that cardinal's death in 1643. He was then given over to Prince Baltasar Carlos until the prince's death sometime after, aged only 16yo (1646).
Following the death of his son, Philip IV fell into a period of melancholy; he slowly replaced his former fallen favourite with another; and was found to be in thrall to the religious mystic, Sister María de Ágreda with whom he was in constant correspondance. When Philip died (1665), he left a four year old son Charles as his heir under the regency of the boy's mother. A political power struggle for control of the young king ensued between the queen regent and the king's illegitimate half brother. Charles' own death (1700) would spark off the Spanish War of Succession.
Where was de Morra amid all of this political turmoil? Some have him dying three years after Prince Carlos, (October 1649) following three years of service at the Spanish court. Or quite possibly later - we will never truly know.
Sinclair's novel was is quite easy to read; the main characters are well known; the cast is not overly large. Sinclair has provided us the reader with a well researched and well told tale, that is not quite a traditional novel and not quite a biography but rather a blend of both; and told from the point of view of Sebastian.
further reading: