In just 12 years of marriage, Elizabeth Gould travelled the globe, painted hundreds of birds and raised six children. All this in the 1800's! She died in childbirth (1841 aged 37yo) and her work was published under her husband's name in John Gould's "Birds of Australia."
In the "Birdman's Wife", Melissa Ashley introduces us to Elizabeth Gould - wife, mother, artist, footnote. We meet Elizabeth in 1828, when she first encounters John Gould at the Zoological Society in London. Elizabeth spent some ten years collaborating with John, including some two years in Australia (1838), classifying and illustrating native birdlife.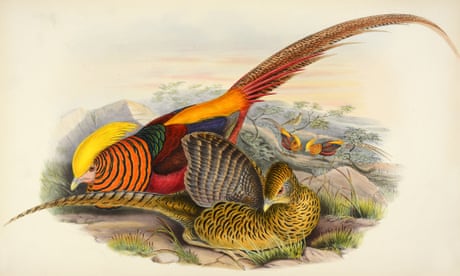 However, this was not as glamorous as it sounds - with the public's fascination with the exotic, many artists embarked on journeys to parts known and unknown, all in the name of science. And it was no easy task to represent nature in it's own environment - these creatures were often caught, killed, stuffed and posed so that they could be diligently documented.
Ashley thoroughly immersed herself in her research (which formed the basis of her PhD), and this shows in the meticulous details, which at times makes for rather laborious reading.
Apart from mentions in various books on illustrators and artists, the only definitive biography on Elizabeth was "The Story of Elizabeth Gould"

published by

Alec Chisholm

in 1944. Very little was known about her until 1938 when a collection of her letters written from Australia was discovered. These letters were the basis for Chisholm's book, and now Ashley's fictionalised account. Elizabeth's letters are housed in the

Mitchell Library (part of the State Library of New South Wales, Australia), and

reveal Elizabeth to be a charming, cultured, and musically and artistically talented woman whose contributions were overshadowed by the fame of her husband, John Gould.
@ The Guardian - Pecking Order: How John Gould Dined Out On The Birds Of Australia