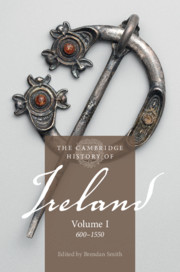 From
University of Bristol
:
The four-volume "The Cambridge History of Ireland" presents the Irish story from c.600 to the present day for both academics and general readers of history.
For seven years University of Bristol Professor of Medieval History Brendan Smith worked with seventeen specialist historians from across the world in his role as editor of the first volume of the series.
This examines the latest thinking on the medieval Irish experience with special reference to the wider European context.
"The book has been written to be inspiring for both scholars and general readers of Irish history alike. It's a great honour, and a mark of the significance of this new history, that Ireland is welcoming it at a prestigious launch with the President of Ireland, Michael D Higgins."
Volume II (1550 - 1730) is edited by Jane Ohlmeyer; Volume III (1730 - 1880) is edited by James Kelly; and Volume IV (1880 to Present) is edited by Thomas Bartlett
see also: Irish Times